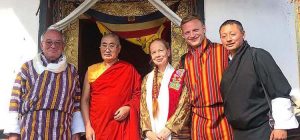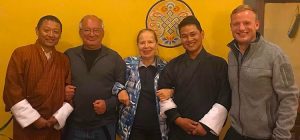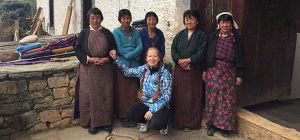 Amazing Trip to the Land of the Thunder Dragon
We have been dreaming about going to Bhutan, the only Buddhist Kingdom in Tibet for a really long time. Finally, we decided: now or never and started planning our trip.
We were lucky to find a perfect travel operator, Druk Golden Star Adventures, and from the first contact with its manager, Tony Deng, we were happy to realize that it was a right choice. Tony managed to tailor the trip to our needs, patiently answered all our questions without delay, arranged a comfortable car, got us an excellent guide and a very good driver: all in all provided a first-class service.
Though the trip was too short (you can never get enough of this magical place!) we fell in love with Druk Yul, the land of the Thunder Dragon in a great part owing to our tour guide, Yeshy Daza and driver, Kumar Mongar.  They did not just perform their job impeccably but made us feel completely at home in a company of best friends.  Of course, you could be fascinated with the beauty of nature, appreciate the architecture, culture, history of any place but you could really love it only if you meet people who make you feel welcomed and special, who would share their stories with you and become your friends. That is exactly how we felt.
Moreover, besides showing us lots of fascinating places on the way from Paro to Bumthang, Gangtay and back, Druk Golden Star Adventures organized a marriage ceremony for us as we decided to reconfirm our vows in Buddhist tradition. They found the most appropriate place for the ceremony – the 15th century Chimi Lhakhang temple dedicated to Saint Drukpa Kunley, the Divine Madman. Our guide, Yeshi  Daza shared with us his best traditional clothes, brand new! Yeshi and Kumar helped us get ready for the ceremony and guided us through it. What an amazing experience!  We were not only blessed with a happy and long life but found new friends we hope to see again soon.
Thank you, Druk Golden Star Adventures, for an unforgettable trip to Druk Yul, the land full of untouched natural beauty, magic, old traditions, unique culture and wonderful people. We'll meet again!
Sasha Zagorskaya
Besançon, France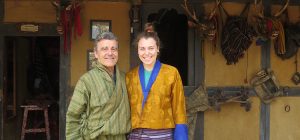 Dear Tony,
I want to express my gratitude to you for helping my daughter and I make this trip to Bhutan. Of the 1500 or so companies approved by the government I checked about 30 websites and corresponded with 5 companies a few times. Only you were able to give enough information for us to plan a schedule with airfares, for our tour. Also, I want to thank our guide Yeshey and the driver Kelden for their expertise and ability to customize our trip. We are already reliving our trip in our minds and trying to absorb all that we saw and learned about Bhutan. Thank you very much and I would recommend Druk Golden Star Adventures to anyone planning a trip to Bhutan.
Best wishes to you,
Chris Garoutte
Orinda, California, USA
A link to Chris' review on TripAdvisor: Re: My Guide for arranging a trip to Bhutan