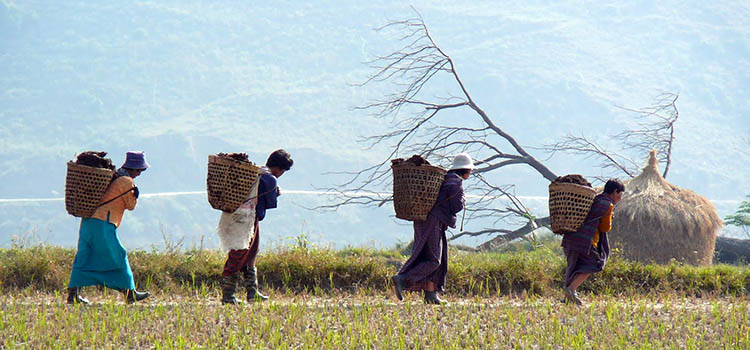 If you want to combine your personal interest with your journey in Bhutan to expand your mind and broaden your horizon, here may have the ideas you are looking for. We offer a wide range of special arrangements to suit your requirements. With the information below, you can consider adding special activities into your itinerary to make you trip really different from others. If your idea is not listed below, feel free to let us know. There is no limit to your imagination.
Rural Life
About 89% of people live in the rural areas of Bhutan. If you want to experience the rural life, we have many options for you. You can choose to stay in a Bhutanese home, or stay in a farm house, or only have a meal or simple tea with the Bhutanese family. You are also welcome to try out agricultural practices and rituals. 
Rafting & Kayaking
Bhutan lies in the great Himalaya and has several gorgeous rushing rivers which are very suitable for the water sports like river rafting and kayaking. White water rafting is the extreme and there are never-ending thrills in the untamed rivers. Rafting and Kayaking can be done in Puna Tsang Chu of Punakha and Mangde Chu of Trongsa. Kayaking is also possible in Wang Chu of Thimphu Valley and Pa Chu of Paro Valley.
Mountain Biking
Bhutan is in the mountainous region and it has adventurous routes for the mountain biking. The routes level from an altitude of 600 m to 3,000 m, and one may even cross mountain passes of up to 4,000 m. If you really want a challenge, the annual Tour of the Dragon bicycle race held in September is your choice. The race starts in Bumthang and travels 268 km over 4 mountain passes before finishing in Thimphu town square. It is billed as one of the toughest one day mountain bike races in the world.
Photography
We know that serious photographers want to see the world in fresh ways. We know that you do not want a trip that rushes from temple to temple. You want time to see what is really there and capture it to share, or just contemplate at a later time. The festivals of Bhutan are also one of the most unique photographic experiences for you to immense colour, drama and culture. Let us know your photographic requirement, we will bring you on a unique route to capture a different Bhutan from you lens.
Bird Watching
Bhutan, though very small in landscape, geographically it comprises of tropical, temperate and alpine region with 70% of forest, which makes a suitable living area for the many species of birds. It is said to be one of the bird watching paradise. Birds like great and rufous-necked hornbills, several species of barbets, cuckoos, white-bellied herons, shelducks, kingfishers, pallas's fish eagles, black-necked cranes etc. can be observed. We know the best routes to watch birds in different season and are ready to help you plan a bird watching itinerary.
Botanical Study
Bhutan, 70% of which comprises of forests, is a heaven for the nature loving members. It still has virgin forests which are untouched by its inhabitants. One can enjoy the sights of the natural forest of many species of vegetation like maples, birch, several species of rhododendrons, magnolia, ever green oak, wild roses, several kinds of primulas, blue poppy etc. If you are interested in botanical study, we are happy to bring you into the great nature of Bhutan.
Textile Appreciation
Bhutanese textiles represent a rich and complex repository of a unique art form. They are recognised for their abundance of colour, sophistication and variation of patterns, and the intricate dyeing and weaving techniques. They are valued not only for their economic viability, but also as a symbol of Bhutan's artistic heritage that commands world attention and appreciation. If you are interested in textile appreciation, we will bring you to their places of origin, most of which are remote villages in Central and Eastern Bhutan.
Buddhism
Bhutan is the only country to maintain Mahayana Buddhism in its Tantric Vajrayana form as the official religion. If you are highly interested in Buddhism, you may go deeper into the religious aspect of the kingdom. We can arrange meditation, Buddhist teaching, or a special route to follow the foot steps of one of the great masters (e.g. Guru Rinpoche).
Luxury
No matter you want a small group private luxury trip or a large group corporate incentive luxury trip, we are pleased to offer the best for you in Bhutan. Your foremost luxury experience starts from the airport to the end of the journey. Every day is new because we have very dedicated team who works day and night to bend and twist the entire stay as per your request and needs. Luxury accommodation includes Amankora and Uma by Como etc.
Traditional Wedding
If you are seeking a unique wedding in Bhutan, we have excellent ideas for you. We can arrange your wedding in a totally traditional Bhutanese way, with full set of costume, instrument and ritual. Upon your request, a respectable monk can be invited to host your wedding with great blessing. This will definitely be your once-in-a-life experience.